As the days draw shorter and evenings longer, the feeling to add a layer or two to make your home have that warm, welcoming atmosphere is becoming a reality.
When you get home at the end of your working day or after standing on the sideline of your children's winter sports game, the way in which your home greets you will often set the mood for how you will spend the rest of the day or evening.
With a few simple tricks, there are some easy and inexpensive ways to prepare your home for the cooler days and nights ahead.
---
Soft textures
During summer, it's all about paring down our homes to feel lighter and brighter and opening up it up to the indoor/ outdoor flow.
Winter is about layering and wrapping up. Introducing soft textures like cashmere, velvet, fur and wool with throws and cushions are a great way to achieve this. Fill a basket or trunk with soft wool and fleece throws so you have enough for all the family to wrap up in front of the TV.
Having a cushion ensemble where you can change all or some of the covers with warmer winter colours and textures, offers ease and flexibility between seasons.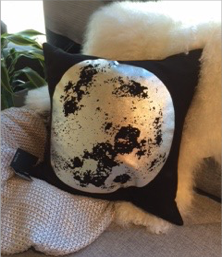 Current trends offer an array of neutral and colourful skin and fur cushions and throws – coupled together with knitted boucles and metallic touches, it can create a space that you won't want to leave.
---
Bedroom warmers
Bedroom coziness is just as important as the living spaces. Layering with textures is easily achieved with extra cushions and knitted or faux fur throws. Neutral colours create a soft and serene ambience for sleep and rejuvenation.
A dark and moody painted statement wall in the bedroom is a great way to take that brave step to try something new that can be easily changed.
---
Shag Rug
Summer rugs of sisal and flat weave can be swapped out for softer rugs such as a fluffy shag, lambs wool or cowhide which will give you the much desired luxury and added warmth underfoot. 
Add a rug in the bathroom as well. If under floor heating in our bathroom is on your wish list, covering up that cold tile with a flat-weave rug will make getting up on cold, dark mornings a little more pleasant.
---
Add layers of light
Create layers of light and options for reading, visiting and movie watching with an ample supply of table and floor lamps. Dimmers change the ambience on your overhead lights and ceiling fixtures. Changing the bulb colour from white to yellow will give that warmer softer glow.
Warm candlelight
The shorter days can make us feel gloomy and unenergetic. Decorating with candles can help counter this effect. The kinetic energy of soft candle light especially if you do not have a fireplace will create a cosy and relaxing atmosphere in your home.  Bring in some flora and fauna from the outdoors and enjoy the warmth of the colours and fragrances that winter has to offer.
Winter home scents
The aroma of home baking or that favourite pot of soup simmering on the stove or the scent of a musky candle plays a big role in creating a warming atmosphere in your home. Choose candles with a scent of pine, cypress or sandalwood. Aromatherapy infused candles or diffusers will even help boost your immune systems from the winter bugs.
---
Cozy Daybed
Cozying up inside with your favourite hot drink and a book while the wind and rain blusters outside sounds like a perfect way to spend a winter's  afternoon.
Add a decorated daybed to a nook in your home like the one alongside. With plenty of feather filled cushions and pillows, and a throw or two makes for a serene space for such blissful days.
---
Winter fruit bowl
Fruit bowls are the easiest way to add a burst of colour into our kitchen and dining spaces. Seasonal fruits of Citrus, Persimmon, Pomegranate, Fejioa and Tamarillo makes for a colourful and healthy irresistible edible centrepiece.
You can add cinnamon sticks, nettle springs and walnuts to bring texture and wintery aromas into the mix.
---
Jägertee Recipe
One of the popular après-ski drinks in Austria, this concoction will not fail to warm you on the slopes or at home and an alternative to the traditional mulled wine.
Making Jägertee from scratch (and sampling it along the way…) is half the fun, so follow the recipe below.
Ingredients:
1 cup red wine
1 cup of tea
1 cup spiced rum
1 cup plum brandy, Schnapps or any other liqueur to hand
1 cup orange juice
2 to 3 whole cloves
1/4 of cinnamon stick sugar
2 lemon slices
How to make it:
Heat the tea, wine, rum, brandy, orange juice, spices and lemons in a pot. Let it come to gentle simmer for around 5 minutes. Remove from the heat. Add a little sugar to taste.
Can be stored in an airtight bottle and reheated before serving.
PROST (Cheers)